Singapore, November 7, 2022 – DataMesh FactVerse, an Enterprise Metaverse platform for frontline workers, can now be experienced at Singtel's FutureNow Innovation Centre (FIC), an innovation platform designed to provide customer-centric experiences of compelling use cases by Singtel and its extensive partner ecosystem. DataMesh is collaborating with Singtel to feature two special 5G-enabled showcases at FIC's Industry 4.0 bay, a digital twin of a smart factory and XR-based 3D modeling training and guidance solution at construction sites.
DataMesh's industry-leading digital twin and XR-based innovations are in line with the six key industry clusters from the Singapore Government's Industry Transformation Maps – namely Manufacturing, Built Environment, Trade & Connectivity, Professional Services, and Essential Domestic Services – which the FIC is designed to support.
About the FutureNow Innovation Centre
The FIC features a suite of state-of-the-art technologies that combines Singtel's technological expertise in ICT and digital services, such as cloud, software-defined networks, data analytics, artificial intelligence (AI), internet of things (IoT), robotics and 5G. Leveraging these technologies, Singtel helps enterprises transform their business models, unlock new growth opportunities, enhance customer experiences and drive productivity.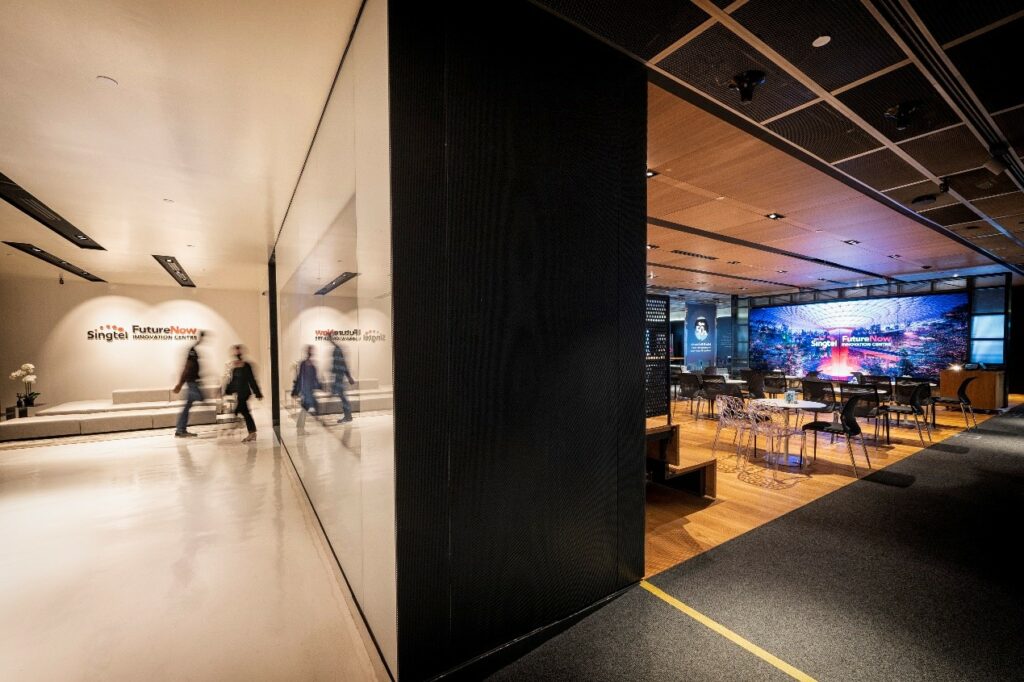 About FactVerse
DataMesh FactVerse is an Enterprise Metaverse that brings open-world gaming architecture and scenario designers to the enterprise world, breaking the barrier of spatial data processing and real-time 3D collaboration. This enables frontline workers to harness modern technology and increases productivity at the workplace. Since its official launch in 2022, FactVerse has been widely adopted in automotive factories, cargo airports and large arenas.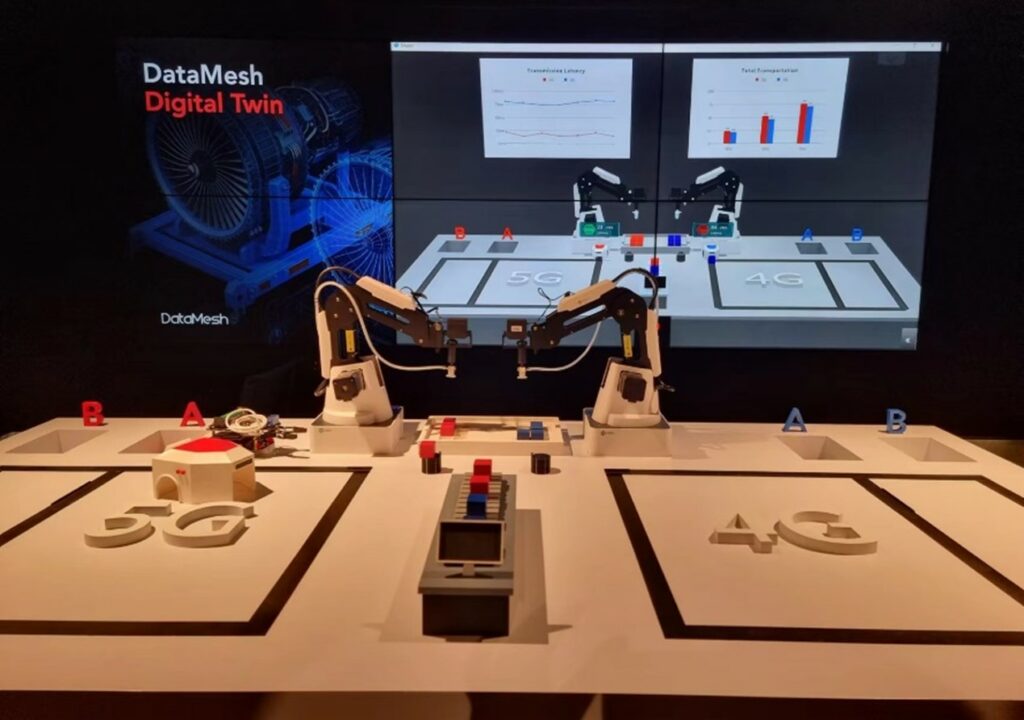 FIC presently features two showcases with FactVerse and 5G-enabled innovations from Singtel.

Showcase 1: 5G-enabled Digital Twin in Smart Manufacturing
The first showcase is an Enterprise Metaverse scenario – a digital twin of a smart factory powered by Singtel Paragon, the industry's first all-in-one platform for 5G network, edge computing and services orchestration. The showcase highlights the efficacy of 5G and its impact on productivity with the concept of a typical smart manufacturing line.
A connection is set up between the models and the physical world through data configuration. Based on the real-time data transferred by 5G/4G, the digital twin demonstrates the status of the physical production line, including motion paths, speed, time spent on a specific task, and the differences in performance when utilizing 5G versus 4G.
The scene intuitively illustrates the advantages of 5G and the incredibly vast opportunities for commercialization of 5G and digital twins to help the digitalization of factories, through real-time monitoring, control, full-scope multi-end simulation, and many other purposes with cost-saving and upgraded performance.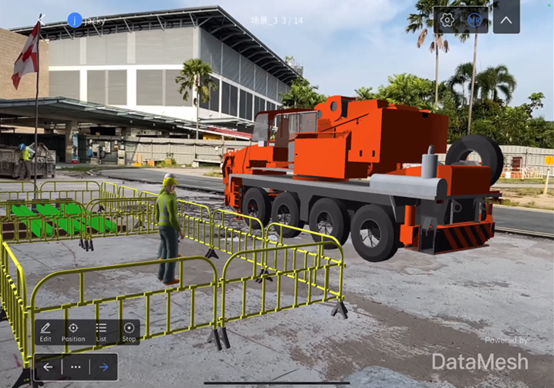 Showcase 2: Digital Twin in Construction
The second showcase features a joint solution currently being trialed at Sentosa in Singapore, in partnership with Gammon and Singtel. It introduces an innovative way of construction, which traditionally involves complicated blueprints and endless inefficient verbal on-site instructions.
In this scene, or at a real construction site, engineers can easily provide XR-based 3D modeling training and guidance to frontline workers with DataMesh Director. The whole process is intuitive for end-users and requires zero coding experience. All collaborators, designers, inspectors and construction workers – whether on-site or remotely, can view the models simultaneously from different angles, and touch and change the model's properties. The process for construction has never been so seamlessly smooth.
Besides introducing the application of 5G, digital twin and XR in industrial scenarios, these showcases demonstrate the ease with which advanced technologies such as the Industrial Metaverse can be handled by ordinary users – lowering the barrier to entry for cutting-edge applications that used to be accessible only to IT/OT professionals.
"We are excited to collaborate with FIC to create more innovative and impactful showcases of emerging technologies to support enterprises globally," said Jacky Chan, Managing Partner of DataMesh Singapore. "We look forward to partnering with more industry leaders like Singtel to democratize digital twin and XR to support the digital transformation of enterprises and create greater outcomes for the society."